Collecting Costume Jewelry, 303, The Flip Side: Exploring Costume Jewelry from the Back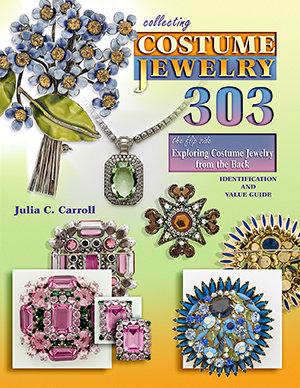 Have you ever wondered why collectors flip-over a piece of costume jewelry to examine the back? Julia C. Carroll's newest book, Collecting Costume Jewelry 303: The Flip Side answers this question. Included in this comprehensive volume are over 1,200 photographs of collectible costume jewelry designs for 97 companies. Detailed, close-up photographs of hardware traits, construction elements, interesting stones, and signatures are provided for each piece. An entire chapter is dedicated to stones, providing the reader with basic information on stone shapes, nomenclature, and composition followed by an informative stone glossary. Interesting illustrations from a vintage hardware catalog help collectors learn the industry names for jewelry findings. Plump with information, this volume also includes amazing interviews with the families of Sandor Goldberger and Yoneguma & Kiyoka Takahashi accompanied by rare examples of jewelry from their private collections. Finally, for fun, this captivating book explores the subject of craft jewelry in the 1960s and 1970s. Colorful examples of craft jewelry, coupled with illustrations from hobby magazines, help collectors distinguish these recreational pieces from higher-quality collectible costume jewelry designs.
Dealer accepts: PayPal
Shipping: Negotiated with Seller
Items Similar To "Collecting Costume Jewelry, 303, The Flip Side: Exploring Costume..."