CINEMA ART, September 1927, POLA NEGRI cover!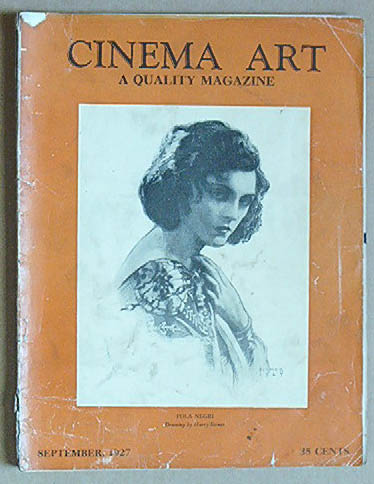 $24.99
Quantity available: 1
This is CINEMA ART, September 1927, Volume 6, Number 4. Cover portrait is of Pola Negri by Harry Stoner. Contents include numerous full-page black-and-white portraits of classic movie stars including Dolores Del Rio and Ralph Forbes, John Gilbert, Warner Oland, Dolores Costello, Gilbert Roland, Marion Davies. Lots of interesting articles and many smaller photographs throughout. Articles include: Is the Cinema Important? ; The Cowboys of the Western World; Go West, Young Woman; Cine-Sport-Ographs; Novel Slants on Camera ANgles; A portrait of Corinne Griffith; One's an Extra, Two's a Crowd; Toiling with Tillie; At Home With John Gilbert in Beverly; Playtime is a Gay Time for These Stars; Sports or Carefree Leisure Fill Summer Days; Two Old Musical Favorites find their way to the screen; Critical Comment on Current Films; Following the Stars int heir Courses Over The Briny Deep; Screen Fashions including Evening Wraps, The Varying Neckline, Maria Corda's Picturesque Gowns, For Cool September Days; In Which Colleen Moore Is "Naughty but Nice"; and much more. Condition is good, cover separated from staples/binding, with some tears on back cover, other wear and tear to covers. Inside is in great shape! Size 10" x 13". 50 pages. [Box 47015] - [Item 75559]
Dealer accepts: Money Order, PayPal
Shipping: $4.50
Items Similar To "CINEMA ART, September 1927, POLA NEGRI cover!"