Chronicles of JW & the Creator's Domain, plus free e-book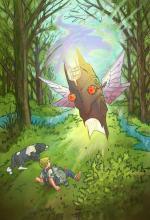 Click thumbnails for expanded view.








$22.00

---

Quantity Available: 100
THIS IS MY FIRST NOVEL ABOUT A SEVEN YEAR OLD BOY WHO LIVES ON A FARM IN SOUTHERN OHIO WITH HIS FAMILY HE ALSO HAS A DOG NAMED LADDIE AND A PET RACCOON HER NAME IS MINNIE, THIS STORY TAKES PLACE IN GALLIA COUNTY,OHIO ON THE FAMILY FARM BETWEEN 1945-2007. HOW A DOG AND A COON SAVES THE LIVES OF TWO FAMILIES FIVE TIMES. IT'S ALSO A STORY OF A STRANGER WHO COMES TO THE FARM BY ACCIDENT AND HE'S LOST DOESN'T KNOW WHERE HIS HOME IS AT ALL. HE KNOWS HIS HOME IS ON THE OTHER SIDE OF THE UNIVERSE, HE IS A CHASER OR POLICE OFFICER WHO IS ESCORTING FOUR PRISONERS TO HIS HOME WORLD TO SERVE LIFE FOR MURDERING MILLIONS OF PEOPLE ON HIS WORLD , THE PRISONERS COMRADES TRIES TO FREE HIM AND SOME FREAK OF NATURE HE IS SLUNG ALONG WITH THE PRISONERS ALLIES TO THE OTHER SIDE OF THE UNIVERSE. THE ALIEN IS THE SIZE OF A 7 OR 9 YEAR OLD LOOKS A LOT LIKE A HUMAN BUT DIFFERENT. HE FALLS IN LOVE WITH THE PEOPLE WHO ARE HELPING HIM AND LOVES THE DOG AND COON IN WHICH THEY SAVE THE ALIEN AND THE OTHERS FROM DEATH. HE THEN FINDS A WAY TO GO BACK TO HIS WORLD BUT HE VOW'S TO RETURN TO HIS FRIENDS OF EARTH WHEN HE PUTS THE PRISONERS IN JAIL. BUT THINGS DON'T ALWAYS WORK OUT THAT WAY , THE ARMY GET'S INVOLVED AND LOTS OF COMEDY AND YES PEOPLE AGES AND DOES THE ALIEN RETURN TO EARTH AND DOES HE FIND THE SAME THING THAT HE HAD WHEN HE LEFT. FUN AND SAD, THIS IS THE FIRST OF A SERIES OF NOVELS AS CHAPTERS ONE TWO THREE FOUR AND MAYBE FIVE. ALL SAME TITLE BUT EACH CHAPTER HAS IT'S OWN TITLE. TOTAL OF 333 PAGES WITH PICTURES OF THE FAMILY THAT THE STORY IS BASED AROUND YES EVEN THE COON AND DOG FOR WHEN I WAS 7 I HAD A DOG NAME LADDIE AND A COON NAMED MINNIE. THIS STORY IS ABOUT THEM BUT IT DOES NOT END THERE . LIFE IS A BED OF ROSES SO SOME SAY IT'S ALSO A BED OF NEEDLES WILL THIS ALIEN COME BACK AND WILL THE PLACE BE THE SAME. ONLY TIME WILL TELL...............IF YOU LIKE THE MOVIE E.T. THEN YOU WILL LIKE THIS BOOK
THE RETAIL OF THE BOOK IS 27.99 PLUS S&H AND TAX
BARNES & NOBLE AND AMAZON THE PRICE IS IN THE 24.32 -25.19 RANGE PLUS S&H AND TAX
PAPER BACK RETAIL IS 16.99 PLUS S&H PLUS TAX,,,,,,,,,,,BARNES & NOBLE AS AMAZON IT'S BETWEEN 14.87 AND 14.63 PLUS S&H AND TAX
THE AUTHOR'S PRICE FOR THE HARD COVER IS 22.00 PLUS 3.25 S&H TO THE LOWER 48 STATES 4.25 TO ALASKA OR HAWAII....................[[[[[[ SPECIAL OFFER FROM THE AUTHOR PURCHASE ONE HARD COVER FOR 22.00 PLUS S&H I WILL SEND YOU A CARD THAT WILL ENTITLE YOU TO ONE FREE E-BOOK.......................THIS OFFER IS GOOD FOR ONE FREE E-BOOK PER HOUSEHOLD..............TOTAL OF 50 FREE E=BOOKS WILL BE AVAILABLE, FIRST COME FIRST SERVED. THAT MEANS WHEN THE FUNDS ARRIVE AT MY ADDRESS THEN IT WILL BE COUNTED FIRST 50 THERE WILL BE NO MORE AND THE HARD COVER WILL BE SIGNED THE CARD WILL BE INSIDE WITH CODES SO YOU CAN EMAIL THE PUBLISHER AND THEY WILL SEND THE E-BOOK TO YOU. THIS DOES NOT APPLY TO THE PAPER BACK ONLY THE HARD COPY
ISBN HARD COVER NO. 978-1-4817-6077-5
PAPER BACK.....ISBN NO 978-1-4817-6078-2
AUTHORS PRICE IS 14.00 PLUS THE SAME FOR S&H AS THE HARD COVER THIS IS READY FOR SHIPMENT IF YOU ORDER THROUGH THEM ABOVE IT WILL TAKE ABOUT 30 DAYS. MINE YOU WILL HAVE IT WITHIN TEN DAYS, ONCE THE CHECKS CLEARS THE BANK...............I TAKE PERSONAL OR BUSINESS CHECKS ONLY NO OTHER FORM OF PAYMENT I HAVE AT THIS TIME 50 HARD COVERS AND 60 PAPER BACKS. YOU CAN SEND A CHECK TO JOHN BLACKBURN 507 BEAVERBROOK DRIVE , GAHANNA, OHIO, 43230-3323. FOR 25.25 OR 26.25 FOR HARD COVER OR 17.25 PAPER BACK TO LOWER 48 OR 18.25 TO HAWAII OR ALASKA.
YOU MAY CONTACT ME AT JBLACKBURN006@COLUMBUS.RR.COM ................PHONE IS 614-476-6119 BEST TIME IS 7PM -10PM EST. I'M A CARE GIVER TO A WW2 NAVY WAR VETERAN AND HE TAKES ALL MY TIME SO THIS IS THE BEST TIME OR EMAIL ME PURCHASE ONE OR MORE IT'S THE SAME PRICE, ALL OTHERS THEY CHARGE UP TO 6.00 FOR S&H
ONE MORE THING THE PICTURE THAT APPEARS HERE DOES NOT HAVE THE TITLE ON IT BECAUSE THIS IS THE PROOF COPY I LEFT MY CAMERA AT MY SISTERS HOUSE AND SHE HAS NOT SENT IT TO ME YET SO WHEN THAT COMES IN I'LL RE TAKE THE PICTURE AND PUT THE RIGHT ONE ON.
THANK YOU
JOHN
Dealer Accepts:
Shipping:
USPS Parcel Post
Item Details:
Category
Books, Paper & Magazines
Shipping
USPS Parcel Post
Dimensions
Width: 6 inches
Height: 9 inches
Depth: 0 inch
Weight: 0 pound
Items Similar To "Chronicles of JW & the Creator's Domain, plus free e-book"