Charles Cobelle, Horse Race, Oil Painting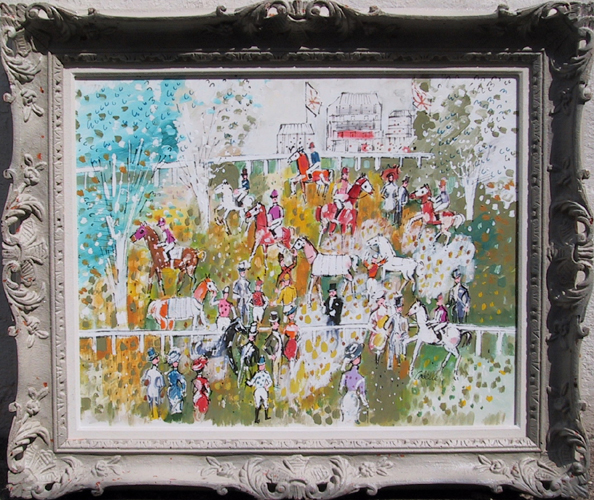 Artist: Charles Cobelle
Title: Before the Race
Year: ca. 1970
Medium: Oil on Canvas, Signed
Size: 24" x 30"
Frame: 32" x 38"


Charles Cobelle (1902 - 1994)
Born in Alsace - Lorraine France in 1902, Charles Cobelle (born Carl Edelman) lived and painted in Paris until the late 1920's when he moved to the United States. Cobelle took his Bachelor's and his Master's degrees from the University of Munich and later studied at the L'Ecole des Beaux Arts in Paris. He also studied privately with Marc Chagall and apprenticed in the studio of Raul Dufy in Menton on the Riviera. In the time before he moved to the United States, Cobelle had established himself as an artistic force in Europe and today is considered the last link to the great tradition of the Open Line School of Paris. Cobelle had already become a U.S. citizen before the outbreak of World War II. In the United States his paintings were immediatly sought after by galleries and private collectors alike. Throughout his long and prosperous career, Cobelle painted his favorite subjects; Paris street scenes, racetracks, ragattas and casinos. In addition to his mixed media paintings his work has graced the covers of many of this contries leading magazines and his murals have adorned the walls of many elegant residences, public buildings, fine hotels and restaurants.
Dealer accepts: Cash, Authorize.Net, PayPal, Check
Shipping: Negotiated with Seller
Items Similar To "Charles Cobelle, Horse Race, Oil Painting"