CHANDLER BOYD CO. 1952 Catalog D Tools For Industry, Lathe Tools, Drills, Hand Tools, Fire Extinguishers, Engineering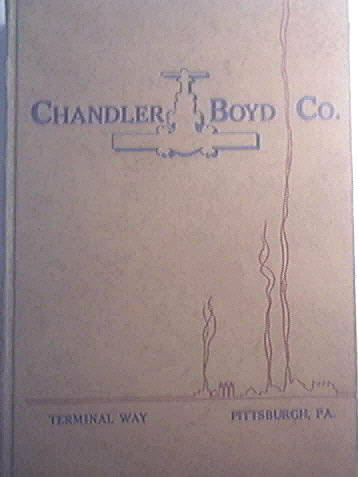 $50.00
Quantity available: 1
CHANDLER BOYD CO. TERMINAL WAY PITTSBURGH, PENNSYLVANIA 1952 CATALOG D TOOLS FOR INDUSTRY
This Fabulos Catalog is 7"1/2x10"1/2 hardback book with 664 pages PACKED with detailed illustrations of the Tools For Industry and very useful information.
Section Index
Pipe
Buttweld and Seamless Pipe Wrought Iron Pipe Pipe Fabrication and Protection Spiral Weld Pipe
And More Tpes of Pipe...
Valves
Linkenheimer Valves Vogt Forged Steel Valves Rockwood Ball Vlves Wilcox Rubber Pinch Valves
And More Types of Valves...
Fittings
Nipples A.A.R. Fittings Welding Fittings Forged Steel Fittings Railing Fittings
And many more Fittings...
Piping Specialties
Ingersoll-Rand Pumps Steam Traps Steam Gauges Thermometers
And More Piping Specialties...
Stainless Steel
Screwed Fittings Welding Fittings Flanged Fittings Pipe and Tubing
And More Types of Stainless Steel...
Tools
Drills Milling Cutters Lathe Tools Electric Tools Diamond Wheels hand Tools
And More Types of Tools...
Industrial Supplies
Boilers Radiators Unit Heaters Fire Extinguishers Car Movers Nails
And More Types of Industrial Supplies...
Engineering Data
Six Chapters
1.Centrifugal Pumps 2.Liquid Flow In Pipes 3.Steam and Steam Flow Data 4.Properties of Air 5.Piping 6.General Engineering Information
View Extra Pics Below
Dealer accepts: PayPal, Money Order
Shipping: $6.00
Items Similar To "CHANDLER BOYD CO. 1952 Catalog D Tools For Industry, Lathe Tools,..."