Cecil B. DeMille's " The King of Kings " 1927 Program Vintage Movie H.B. Warner Dorothy Cumming Ernest Torrence James Neill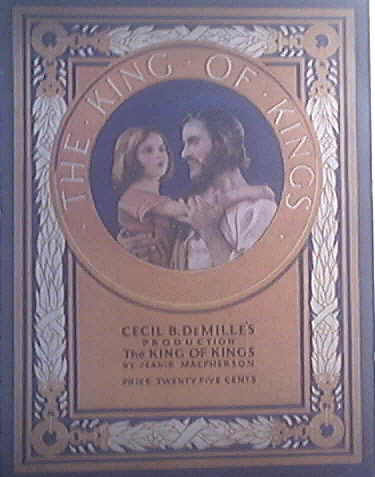 $100.00
Quantity available: 1
Beautiful Vintage Original 1927 Souvenir Movie Program from the Grauman's Chinese Theatre
Cecil B. DeMille production of "The King of Kings" by Jeanie Macpherson.
This Beautiful Program is 9" x 12" softcover with 18 pages packed with purple color photos from the movie with some text about story.
CAST
H.B. Warner .... Jesus, the Christ Dorothy Cumming .... Mary, the mother Ernest Torrence .... Peter Joseph Schildkraut .... Judas Iscariot James Neill .... James, brother of John Joseph Striker .... John, the beloved Robert Edeson .... Matthew, the publican Sidney D'Albrook .... Thomas, the doubter David Imboden .... Andrew, a fisherman Charles Belcher .... Philip Clayton Packard .... Bartholomew Robert Ellsworth .... Simon, the zealot Charles Requa .... James The Lesser John T. Prince .... Thaddeus Jacqueline Logan .... Mary Magdalene
And more...
Condition is Excellent! has faint discolorment on back cover, some wear along edges also a few very tiny nicks and chips on edges. [6749]
Dealer accepts: PayPal, Money Order
Shipping: $5.00
Items Similar To "Cecil B. DeMille's " The King of Kings " 1927 Program Vintage Mov..."