Cathedral & Tombstone Radios by: Mark Stein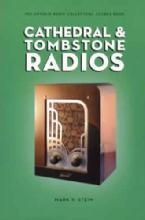 Click thumbnails for expanded view.

$26.95

---

Quantity Available: 2
GGB-2008-9781886606234-X1
Collector Bookstore is a retailer of new books located in Leavenworth, Kansas. We specialize in price guides and reference books for the antiques and collectibles industry.
The Antique Radio Collectors' Source Book Includes:
Over 1,500 Illustrations U.S. and Canadian Radios Tombstone Radios Cathedral Radios Brand Name/Manufacturer Representative Model Numbers Tube and Band Counts Variations In Color, Material and Cabinet Style Current Market Value Guidelines For Establishing Value Resources, Suppliers and Club Listings
And covers the brands:
Ace Acratone Admiral Advance Aero Aetna Aircastle Airex Airking Airline Allamerican Americanbosch American Arkay Arvin Atchison Atlantic Atwater-Kent Audiola Automatic Autocrat Aztec Baldwin Balkeit Belmont Brown Brunswick Camden Cardinal Cavalier Case Chrysler Clarion Climax Colonial Columbia Commonwealth Consolette Continental Cordonic Corona Coronado Crosley Croydon Cunningham Davison-Haynes Deforest Delco Deluxe Detrola Dewald Diamond Dubilier Echophone Elgin Emerson Empire Emr Ebvoy Erla Espey Fada Fairbanks-Morse Falck Ferguson Firestone Flint Fordson Franklin Freed-Eissman Freshman Garod General Electric CGE (GE Canada) General Television Gilbert Gilfillan General Motors Goldentone Graybar Grebe Griffin-Smith Grunow Gulbransen Halson Harfield Howard Hudson ICA Imperial Jackson-Bell JAX Jenkins Jennings Jesse French Jewel Kadette Keller-Fuller Kennedy Kingston Knight Kolster L.A. Radio Lafayette Lang Lark Lasalle Lewol L'tatro Lyric M & H Majestic Mantola Marconi Marvelo Mascot Master May Mayerola McCormick Melorad Mercury Midwest Minerva Mission Bell Mohawk Monarch Motorola Misicaire Musicmaster Musique Mutual National Pfanstiehl Muzak Navigator Oriole Ozarka Pacific Paramount Parmak Patterson Peko Perry Pfanstiehl Philco Phoenix Pilot Pioneer Pla-Pal Plaza Plymouth Powertone Premiere Radiochron Radiette Radolek RCA RCA Canada RCI Regal Reliable Remington Remler Reporter Republic Revere Rogers Royal Saturn See-All Sentinel Setchell-Carlson Sheffield Silver Silver-Marshall Silvertone Simplex Skyrover Sonola Sorber Sonora Sparton Stanford Stein Steinite Sterling Stewart-Warner Stratford St.Regis Stromberg-Carlson Studebaker Supertone TCA Templeton Teletone Tiffany Tone Trav-Ler Troy Truetone Truetest Tune-O-Matic Ultramar United Engine United Motors Universal U.S. Radio Viking Vitaltone Walton Ware Watterson Wells-Gardner Westinghouse Western Westrad Wilcox-Gay Wings Wolper & Seidscher Woodstock World Wurlitzer Zaney-Gill Zenith
Dealer Accepts:
Item Details:
Dimensions
Width: 6 inches
Height: 9 inches
Depth: 0 inch
Weight: 1.44 pounds
Items Similar To "Cathedral & Tombstone Radios by: Mark Stein"