Cape Brenton Coal, Iron and Railway Company 1905 - Nova Scotia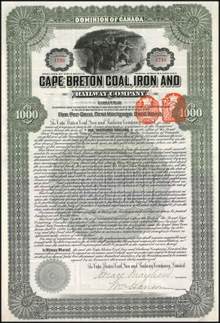 Click thumbnails for expanded view.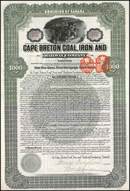 Beautifully engraved certificate from the Cape Brenton Coal, Iron and Railway Company issued in 1905. This historic document was printed by the American Banknote Company and has an ornate border around it with a vignette of men working in a mine. This item is hand signed by the Company's President ( Horace Mayhew ) and Treasurer ( William Hanson ) and is over 98 years old.
Certificate Vignette The history of the Broughton enterprise begins in 1902, with the advent of Thomas Lancaster, an Englishman of some experience in mining, who was introduced into this province by Silas Townsend of Halifax, and who was shortly afterwards joined by George J. Jacques, a civil engineer. During this year considerable work was done by Messrs. Lancaster and Jacques on the Cariboo Marsh Road without success. After they became familiar with the general conditions of the Sydney coal field, Mr. Lancaster saw the possibilities in what was then known as the Cochranes Lake and Black Brook sections. He secured areas in that locality that were then held by E. N. Moseley, of Sydney; J. W. Goreham, of Halifax; Simon Landry, of Port Morien; J. H. Austen, of the Crown Lands Department; James T. Burchell, of the New Campbellton Colliery, and several others. In the meantime, Mr. Lancaster had made an arrangement with Neil Ferguson, James McKenzie, Henry Mitchell and Walter Crowe, to take under option the charter, and areas of a company known as the Cape Breton Coal, Iron and Railway Company, Limited, who had held a large number of areas in the west and south-western part of the Sydney coal fields, upon which considerable but desultory prospecting had been done for a number of years previous. With these amalgamated properties in hand, Mr. Lancaster during the latter part of 1902, tried to induce the bondholders of the Dominion Securities Company, who were in possession of the Cape Breton Railway, operating at that time from the Strait of Canso to St. Peters, about thirty-one miles, and which it was expected would be constructed to Louisburg, to take an interest in these coal properties, with the idea of using the road as a traffic adjunct. A committee of the Dominion Securities Co., now defunct, visited Cape Breton in the latter part of 1902, but owing to some hitch the negotiations came to naught. ENGLISH CAPITAL INTERESTED Mr. Lancaster then turned his attention to the possibilities of getting English capital interested in the properties and in the fall of 1903 and early in the summer of 1904 he visited England and finally induced Messrs. Burgess & Co., of London, Messrs. Horace Mayhew, the Rt. Hon. Herbert J. Gladstone and several others of the Gladstone family, and the Messrs. Coates, Son & Co., of London, represented by Hanson Bros., of Montreal, to become interested in the properties. In the early part of 1904, Mr. Horace Mayhew, an English colliery owner of wide experience, visited Cape Breton in the company of Mr. Lancaster, arid was so favourably impressed with the outlook for milling at Cochrane's Lake (now known as Broughton), that he decided to become interested in the enterprise, and in June of that year he again visited Cape Breton, accompanied by William Hanson, of Montreal, and early in July finally consumated the purchase of the areas belonging to Messrs. Moseley and those before referred to, as well as the areas that had been controlled by the Cape Breton Coal. Iron and Railway Co. for a great many years, acquiring at the same time all the chartered rights of the latter concern, which at that time was capitalized at $2,000,000. The areas said to be controlled by the amalgamated companies were estimated to be about 92 square miles. The following board of directors were elected at the first meeting of the company held in Sydney: President. Horace Mayhew, Broughton Hall, Cheshire, England. Vice-President and General Manager, Thomas Lancaster, Sydney. Treasurer. William Hanson. of Hanson Bros., accountants, Montreal. Secretary, Edgar W. Moseley. barrister, Sydney. Mr. Gladstone. of the family of the late Hon. W. E. Gladstone, Hawarden. England. C.H. Newson, of Coates, Sons & Co., London, Eng. Mr. Thompson, of the firm of Armstrong, Birmingham. Eng. Neil Ferguson, merchant. Sydney. Solicitor, Walter Crowe, Sydney. Bankers. Coates. Sons & Co.. London Messrs. Coates. Sons & Co., were so interested in Sydney and vicinity and its possibilities that they purchased a large block of the city's bonds at 84, a very good figure considering that they were 4 per cent bonds. BONDS SOLD HIGH Early in November rumors were rife that Sir Charles Rivers Wilson, president of the Grand Trunk Railway, had purchased controlling interest in the Cape Breton Coal, Iron and Railway Company. Following this report large blocks of the company's bonds of the par value of $1000) each are said to have been sold at $910, a remarkably high price for securities of a company undergoing development when the scene of operations was still encircled by wooded hills. S.E. Thomas, mining engineer, was sent out from England, by Mr. Mayhew in the latter part of February, 1905, and shortly after his arrival mining operations were carried on with vigor, and the company practically decided to construct lines of railway to Sydney and Louisburg and to make overground colliery equipment equal, if not superior, to that of any similar industry in Canada. Shortly afterwards actual grading was started and a railway from the company's mines was built to connect with the Dominion Coal Company's railway, so that the Broughton Company could get in a large quantity of construction material and supplies necessary for the building they had decided to undertake. In the spring and summer of 1905 extensive and active operations were continuously carried on and a large force of men employed. Foundations were laid for a large power plant, air compressors arrived fro
Fairfax, Virginia
Seller Since 1995

---
Payments Accepted:
Item Details:
Category
Coins & Currency
Dimensions
Width: 0 inch
Height: 0 inch
Depth: 0 inch
Weight: 0 pound
Condition
See Description
Items Similar To "Cape Brenton Coal, Iron and Railway Company 1905 - Nova Scotia"