Burt Hasen S/N Etching, Homage to William Blake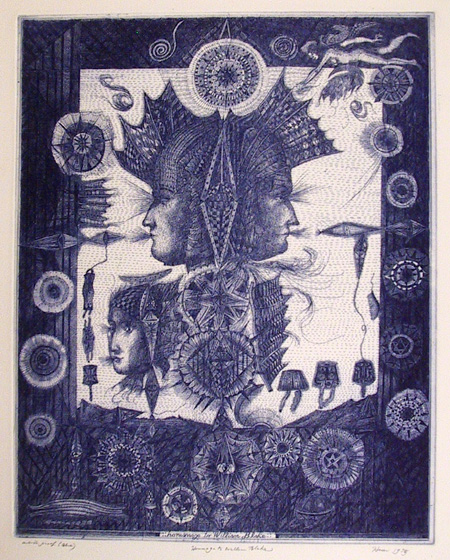 Artist: Burt Hasen
Title: Homage to William Blake
Year: 1979
Medium: Etching, signed in pencil
Edition: AP
Size: 30" x 22"
Image: 19.5" x 15.5"
Burt Hasen, born in New York City, began his art studies at the Art Students League in 1940-1942. After returning home from World War II, he resumed his studies at the League. During this period he studied with George Bridgeman, Frank Vincent Dumond, and Will Barnet. In 1947 he continued his studies under the guidance of Hans Hofmann at the Hans Hofmann School of Fine Arts. In 1948 Hasen, under the GI Bill, went to Paris to further his education and studied at the Academie de la Grande Chaumiere. He studied in France from 1948 to 1950. His first solo show was in Paris at Galerie 8 in 1950.
After Hasen's return from France in 1950, he exhibited in many group shows and was included in exhibits at the Brooklyn Museum, Metropolitan Museum of Art, and the Corcoran Biennial in Washington, DC. His first solo show was at Hacker Gallery, NYC, in 1952. Hasen also exhibited at one of the 10th Street galleries, the March Gallery, in 1958. This co-op exhibit attracted critics and gallery people. Hasen's second one man show was in 1958 at Grand Central Moderns Gallery. He was in the Whitney Annual in 1963 and was reviewed in Time Magazine.
Over the years Hasen received numerous awards including a Fulbright grant to Rome, 1959, and an Emily Lowe Purchase prize in 1953. More recently he received awards from the New York Foundation for the Arts, 1990, a Pollock-Krasner Foundation Fellowship Award, and the Benjamin Altman Award from the National Academy of Design. His work has been reviewed in Art in America and the New York Times as well as other publications and books.
Artist's Statement: "The wish to create a poetic atmosphere, one in which solitude plays a major role, is one of the primary objectives of my work."
Teaching School of Visual Arts, Tangiers, Morocco

Education Accademia Delle Belle Arti, Rome

Visiting Professor Minneapolis School of Art and Design

Currently teaching School of Visual Arts, NYC

Education Art Students League, NYC

Education Hans Hoffman School of Fine Arts, NYC

Education Academie De La Grande-Chaumiere, Paris


Exhibitions

1997 Jewish Museum Washington D.C.

1997 Hugo de Pagano Gallery New York, NY

1996 Emerson Gallery, Hamilton College Clinton, NY

1995 Staller Center for the Arts, State Univ. Stonybrook, NY

1994 Anita Shapolsky Gallery New York, NY

1993 Gallery 1100 Niagara Buffalo, NY

1992 Anita Shapolsky Gallery New York, NY

1987 Anita Shapolsky Gallery New York, NY

1987 Manhattanville College Purchase, NY

1986 Anita Shapolsky Gallery New York, NY

1981 Galeria T'Pandje Asselt, Belgium



Dealer accepts: Check, Authorize.Net, Cash, PayPal
Shipping: Negotiated with Seller
Items Similar To "Burt Hasen S/N Etching, Homage to William Blake"