Benny Andrews, Black Bird, Lithograph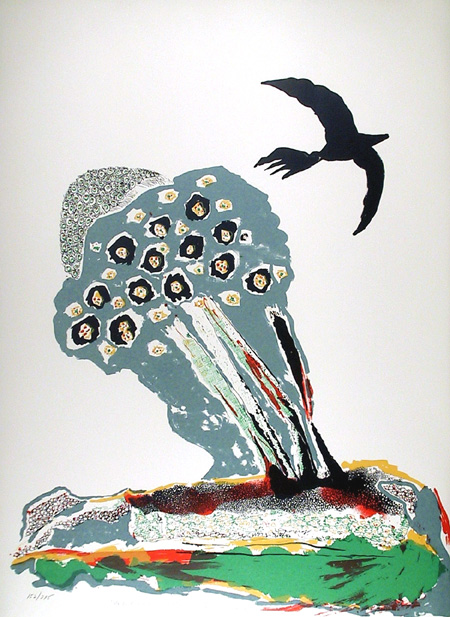 Artist: Benny Andrews
Title: Black Bird
Year: 1980
Medium: Lithograph [Signed and Numbered in Pencil]
Edition: 275
Paper Size: 30" x 22"

Benny Andrews could be called a minimalist. His drawings, oils, and collages, created oven the past forty years, were all done in a similar manner, and Andrews has been quoted as saying that he was not interested in how much he could do on canvas but how little. At the beginning of his career, Andrews always wanted to express black experience through his art, but he found during his studies at the Chicago Art Institute that it was a difficult thing to do. Boris Mango and Jack Levine were the people at the Institute who inspired him to continue to make art in his own way. Andrews began his own style of painting in the 1960s, when the collage movement started to flourish. He was using geometrical forms in his art, and abstract expressionism became a personal movement for him. Even though he has very little going on in his pieces, the message is as effective as if the composition were on a much larger scale. His drawing Mourners (Study for Appalachee Red) from 1977 shows only the outline of man and a woman with their backs to the viewers. Their stooped postures in front of a small casket make one feel the sadness and the agony of losing a loved one. The Preacher, also from 1977, is a simple drawing that reminds viewers of early- morning Sunday sermons. Andrews is a humanist and crusader, whose portraits depict his personal feelings about human life, suffering, desperation, and about hardworking African Americans and blacks all oven the world. During the 1960s and 1970s Andrews was also busy organizing a crusade on behalf of the black artist. The Black Emergency Cultural Coalition became the mouthpiece for the black artist. His 1971 painting No More Games, located in the New York Museum of Modem Art collection, is about the plight of black artists. It is a collage of oil and cloth on canvas, a composition of a dejected male sitting on a box, waiting for something to happen. On the second panel is a body covered with an American flag-perhaps this per- son was lynched. Edmund B. Gaither characterized another Andrews painting entitled Trash as "false religion plus sexism plus militarism plus false democracy equals deception equals trash on waste." Andrews wanted to express himself differently from other artists in order to create his own unique individuality. His works are delicate, subtle, and intimate. Whatever the medium, they are always linear, narrative, and abstract. He draws from his past private life in Georgia and his social life in New York. The inclusion of rugged surfaces, found scraps of papers, cloth, and built-up sections gives the paintings a "surreal reality" in relation to the past and present of a person. His collages are at times illusionary and representational. Christian imagery is prevalent in his work, and many of his collages and paintings have referred to the southern black life, where there was no interference with religion. A social realist, Andrews believes that art elevates people, glorifies people's pasts, and builds self-pride.
Dealer accepts: Check, PayPal, Authorize.Net, Cash
Shipping: Negotiated with Seller
Items Similar To "Benny Andrews, Black Bird, Lithograph"