Antonio Recalcati S/N Serigraph, Rainbow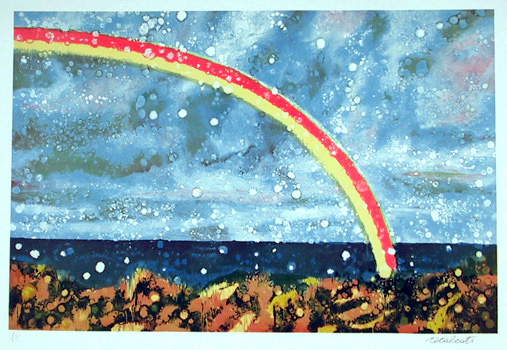 Artist: Antonio Recalcati
Title: Rainbow
Medium: Serigraph, Signed and numbered in pencil
Edition: 50
Paper Size: 29" x 21"
The story of Recalcati's life before anything else is the story of a painter. Recalcati's memorable works allow us an intimacy the anguish, glory and power of Recalcati's inquest into his fragile silent meditations and brutal battle with his instrument. Recalcati's paint brush emerges as a silent drifting hope that cannot give meaning to words but is the conductor of energy during the sacrament of inspiration.
The brush is a constant quiet shadow which assumes a pose of inactivity and and retirement, yet infiltrates the mind in an obessional manner. The eloquent gestures in Recalcati's work fills the viewer with a sense of awe at their assertive and autonomous existence in contrast with our diminishing sense of self. The viewer participates in these illuminating glimpses of forces within and comes to appreciate and understand the artist's intense feeling of vocation and respect for his art. The Metaphysical connection between Recalcati and his visions is preserved in these paintings. His search for identity, his presence, his absence, like the atmosphere, dissolves as he belongs to the memory that continues to take from his paintings.
Dealer accepts: PayPal, Check, Cash, Authorize.Net
Shipping: Negotiated with Seller
Items Similar To "Antonio Recalcati S/N Serigraph, Rainbow"