Antique & Vintage Fashions 1745 to 1979 a Collector's Guide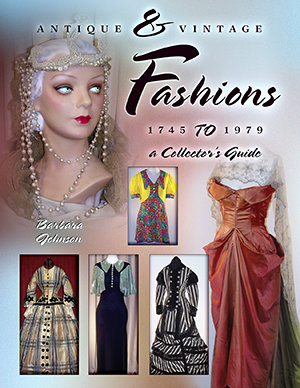 Experience the past firsthand when you open the cover of Antique and Vintage Fashions, 1745 - 1979, a Collector's Guide. This unprecedented work chronicles over 200 years of fashion trends. Enjoy 800 captivating photographs of real garments, hats, shoes, and accessories. Unlike any other work this features detailed annual fashion trends lists in chronological arrangement so collectors can identify way beyond what is pictured. The identification details are compiled from researching period sources, including fashion plates and periodicals. Photographs of clothing and accessories that reflect the year's trends accompany these lists. The majority of fashions depicted belong to women with a lesser extent devoted to children and occasional examples pertaining to men. The wide time span makes the book useful to see and compare clothing and accessories quickly and easily across many decades. This wealth of information, visual presentation, and yearly arrangement make it an indispensable guide for collectors.
Dealer accepts: PayPal
Shipping: Negotiated with Seller
Items Similar To "Antique & Vintage Fashions 1745 to 1979 a Collector's Guide"