Antique German Spun Glass 4 Angel Wings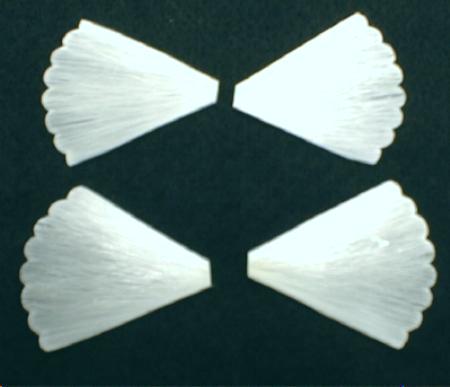 Vintage German Spun Glass Christmas Ornaments are among the RAREST and hardest ornaments to find! Here we are offering AUTHENTIC OLD GERMAN SPUN GLASS ANGEL WINGS!! These wings have a beautiful scalloped edge design, and would work great to make or repair your old Christmas ornaments! It is so BEAUTIFUL the way the spun glass reflects light!!! These WINGS measure approx. 2" x 2". You can use these to repair old ornaments, or even combine them with "paper scrap" to make your very own original designs! All of our SPUN GLASS PARTS are VINTAGE GERMAN MATERIALS (Dating from about 1900-1940's.) The spun glass, "WHEELS, COMETS, WINGS & BIRD TAILS (even the metallic tinsel string!) were all found in the attic of a family home near LAUSCHA, GERMANY. Lauscha is the "birthplace of glass Christmas ornaments", and at one time the talented Glass Artists there made almost all of the glass Christmas ornaments used worldwide! It was a thriving "COTTAGE INDUSTRY" with entire families getting involved in the process! The materials used to make the ornaments we offer came from the home of one of these old German families. ENJOY!! (I'd like to thank my wonderful friends from Lauscha, for the opportunity to acquire these beautiful old materials!! ) THANK YOU!!) Insurance is included in the S&H. Contact seller for international shipping rates.
Dealer accepts: Money Order
Shipping: $5.00
Items Similar To "Antique German Spun Glass 4 Angel Wings "