Anatole Krasnyansky, Signed Serigraph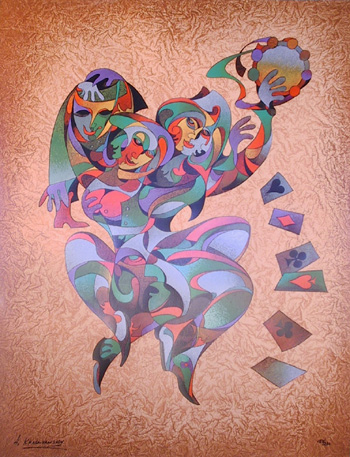 Artist: Krasnyansky, Anatole
Title: The Joker
Year: Circa 1980
Medium: Serigraph [Signed and Numbered]
Edition: 200
Paper Size: 38" x 29"
Anatole Krasnyansky, now residing in California, was already a prominent architect and watercolorist when he left the U.S.S.R. for the United States in 1975, where he found fertile ground for his aesthetic growth. His traditional cityscapes, much admired in Europe, have grown richer, freer and more expressive; and in recent years he has evolved a second, wholly new style with which to render the experience and ideas of his new life in the United States. With a Master's Degree in Architecture and Fine Art, he is well-versed in every aspect of the structure and design of the buildings he depicts. Since his arrival here in 1975, the artist has found important uses for his knowledge of architecture, design and his creative imagination, and he has realized his tremendous potential and achieved virtuosity in several different artist arenas. Working as a scenic artist in television, motion pictures and the theatre, he has designed sets calling for his specialized background. Always a lover of the baroque, he incorporated the strength and fluid grace of that style into his figural compositions, capturing the sense of motion with which a building makes a line flow from one area to another. Krasnyansky's awareness of the interdependence of architecture, sculpture, painting and applied art, and his knowledge of these diverse disciplines have shaped his career and found expression in his art works.Through experimentation he has developed his own artistic method, one that has freed him from the constraints of traditional watercolor techniques. Krasnyansky's innovative inclusion of paper texture into the creative process is a dynamic component of his art, resulting in an expansion of the medium's potential. He is one of the first artists to elevate the watercolor medium to the expressive possibilities usually associated with oil painting. Bordering on the surreal, Krasnyansky's figures never depart from the recognizable. Altogether new in form, they contain echoes of the artist's Eastern heritage. Humane and profoundly lyrical, they combine the palpably substantial with a timeless and universal spirituality.
JACK BRUSCA (1939- 1993) Jack Brusca's ability to interpret the natural wonder of ordinary things and ideas is the major reason he is so highly regarded in today's contemporary art world. As an illusionist who manipulates letters, numbers and flowers among things, Brusca's keen sense of spacial dimension and color blend to give his work a theatrical-type light. As John Canady of The New York Times wrote:"... (Brusca's) geometrical forms are painted with adegree of illusionism that makes a metal band seem to arch away from the wall, turning the painting into sculpture". Born in New York in 1939, Brusca studied at the University of New Hampshire and The School of Visual Arts, New York. His first one-man show was held at Galeria Bonino in New York in 1969. Since then his works have been displayed throughout the United States and South America. He has participated in numerous exhibitions including Expo '67, Montreal; Paintings and Sculptures Today, Indianapolis Museum of Art and Highlights of the Season at the Larry Aldrich Museum in Ridgefield, Conn.
Dealer accepts: Authorize.Net, PayPal, Cash, Check
Shipping: $30.00
Items Similar To "Anatole Krasnyansky, Signed Serigraph"