AMF (Bowling) Company - Pre Bankruptcy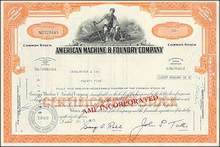 Click thumbnails for expanded view.

Beautiful engraved Stock Certificate from The AMF Company - previoulsy known as American Machine and Foundry dated 1960's-1970's. American Machine and Foundry formally changed their name in 1971 to the AMF Company since they were out of the foundry business and concentrating their efforts on bowling equipment. This item has an orange ornate border with a vignette of an allegorical man sitting in front of a factory. AMF's success underscores the dynamic growth that can be achieved by focusing on the development of the world's most popular recreational activity, bowling. Today's AMF is a global manufacturer and marketer of bowling products, and the owner and operator of more than 500 bowling centers in 11 countries. Their mission in their bowling products business is to provide our trade partners and bowling proprietor customers with the highest quality products, to make the experience of their consumers as enjoyable and successful as it can be. Within their own bowling centers, their goal is to build on the popularity of bowling and provide an active, recreational fun experience for friends and family. Bowling is a growth business, both in the United States and worldwide. During the past year alone, they acquired the 50-center Bowling Corporation of America chain and American Recreation Centers, Inc., which operated 43 bowling centers in six states. Internationally, AMF's focus is on emerging markets that hold huge and exciting potential for bowling. With 25 sales offices around the globe, their bowling products business supplies more than 10,000 centers worldwide. They also own and operate 36 centers in Australia, 21 in the United Kingdom, 9 in Mexico, 6 in southern Europe, 6 in Hong Kong/China, and 5 in Japan. Bowling's appeal transcends cultural, language, demographic and geographic boundaries. It's a sport with a rich tradition and even brighter future. As the largest company in the world focused solely on bowling, AMF is excited about the prospect of moving bowling to a new level of recreational and competitive fun throughout the globe. This historic item is a very collectible piece. July 03, 2001 AMF Bowling Worldwide Files Voluntary Chapter 11 Petition To Facilitate Major Financial Restructuring Jump to first matched term $75 Million Debtor-in-Possession Financing Arranged All Bowling Centers and Manufacturing Facilities Open And Conducting Business In the Ordinary Course RICHMOND, Va., July 3 /PRNewswire/ -- AMF Bowling Worldwide and its U.S. subsidiaries today filed for reorganization under Chapter 11 of the U.S. Bankruptcy Code. The filings, in Richmond, Virginia, will enable AMF to maintain ordinary course operations while it finalizes and implements a reorganization plan to significantly reduce its long-term debt and interest expense. AMF announced in April that it would likely take this action in order to facilitate an orderly financial restructuring. The company has reached an agreement in principle with the steering committee of its senior lenders on a new capital structure and the terms of a plan of reorganization. AMF expects to submit this plan and a disclosure statement in early August after the approval of the agreement in principle by the requisite majority of its senior lenders. The plan of reorganization will reduce outstanding debt and provide improved financial flexibility for AMF. Debtor-in-Possession Financing Arranged Members of AMF's current senior lending group have agreed to provide the company with a $75 million debtor-in-possession financing facility, subject to court approval that is expected later today. These funds will be available to supplement the company's operating cash flow for funding business operations, including payment under normal terms to suppliers and vendors for all goods and services that are provided to the company during Chapter 11. AMF Conducting Business in the Ordinary Course Roland Smith, AMF's President and Chief Executive Officer, noted that the court filing is not expected to have any significant impact on AMF's day-to-day operations: "We will continue welcoming customers at our bowling centers, and we will continue to make and sell our bowling products. While the refinancing will be an important step towards a more successful future, our primary focus will continue to be our customers and their satisfaction with our products and services." All 518 of the company's bowling centers around the world remain open and will be conducting normal business operations. League play and all other activities at the bowling centers, such as corporate parties and special promotions, will continue as planned. All three of the company's manufacturing facilities are open and will operate on regular schedules. Proposed Reorganization Plan Under the terms of the plan to which AMF and the steering committee of senior lenders have agreed in principle, the senior lenders will receive a combination of cash, debt and common stock of the reorganized company. Based on a hypothetical reorganization value of $700 million, these distributions will provide payment in full to the senior lenders for their secured claims of approximately $625 million. Unsecured creditors will receive the remainder of the reorganized company's common stock, as well as warrants to purchase additional shares. The reorganized company will implement a management stock option program tied to the company's future performance. AMF Bowling Worldwide will not make a distribution to AMF Bowling, Inc., the parent company. As a result, while AMF Bowling, Inc. has not yet filed for Chapter 11 protection, it is expected that the common stock and the zero coupon convertible debentures of AMF Bowling, Inc. will ultimately be cancelled. The details of AMF Bowling Worldwide's proposed capital structure will be contained in a plan of reorganization and a disclosure statement that the company expects to file with the court in early August. The plan and the disclosure statement are subject to the approval of the creditors and the bankruptcy court. "We have negotiated a plan of reorganization with the bank g
Fairfax, Virginia
Seller Since 1995

---
Payments Accepted:
Item Details:
Category
Coins & Currency
Dimensions
Width: 0 inch
Height: 0 inch
Depth: 0 inch
Weight: 0 pound
Condition
See Description
Items Similar To "AMF (Bowling) Company - Pre Bankruptcy"