American Thermos Bottle Company 1907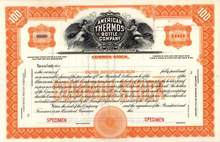 Click thumbnails for expanded view.

Beautifully engraved SPECIMEN certificate from the American Thermos Bottle Company. This historic document was printed by the American Banknote Company around 1907 and has an ornate border around it with a vignette of the company logo between angels.
Certificate Vignette Invented in 1892 by Sir James Dewar, a scientist at Oxford University, the "vacuum flask" was not manufactured for commercial use until 1904, when two German glass blowers formed Thermos GmbH. They held a contest to name the "vacuum flask" and a resident of Munich submitted "Thermos", which came from the Greek word "Therme" meaning "hot". In 1907, Thermos GmbH sold the Thermos trademark rights to three independent companies: The American Thermos Bottle Company of Brooklyn, NY; Thermos Limited of Tottenham, England; Canadian Thermos Bottle Co. Ltd. of Montreal, Canada. The three Thermos companies operated independently of each other, yet developed the Thermos vacuum flask into a widely sought after product that was taken on many famous expeditions, including: Lieut. E.H. Schackelton's trip to the South Pole; Lieut. Robert E. Peary's trip to the Arctic; Colonel Roosevelt's expedition to Mombassa and into the heart of the African Congo with Richard Harding Davis. It even became airborne when the Wright Brothers took it up in their airplane and Count Zepplin carried it up in his air balloon. The American Thermos Bottle Company by William Walker in Brooklyn, New York in 1907. The Company moved to Norwich, Connecticut, in 1913 and the name changed to the Thermos Company. Thermos was hailed around the world for its revolutionary design. In 1909 Thermos won the "Grand Prize Award" at the Alaska Yukon Pacific Exposition and went on to be honored at 7 other world expositions. The Thermos vacuum flask made a technological breakthrough in 1911 when Thermos Limited of England produced the first machine-made glass filler. Today Thermos continues to be the world leader in glass vacuum technology. With the production of machine-made glass fillers, the popularity of Thermos products grew tremendously. Demand grew so much that The American Thermos Bottle Company moved in 1910 from Brooklyn, NY to Manhattan to triple output and then moved again in 1912 to Norwich, CT, again to increase output. The move to Norwich allowed Thermos to improve productivity, clear the backlog of orders and reduce prices in 1914 and 1915. In 1918, the president of The American Thermos Bottle Company, William Walker, announced plans to build manufacturing and distribution facilities all over the world. With an increase in capital by the shareholders, the company entered a period of expansion. Unfortunately, the stress of a general business recession in the early 1920's caught up to Walker and he died in 1922. His widow ran the company briefly and then sold the family interest in 1923 to a syndicate formed by Tobey and Kirk, a firm of investment brokers and bankers. Business began to pick up with the introduction of the No. 24 pint sized "Blue Bottle" and a new gallon-sized insulated food jar known as the Thermos Jumbo Jug. In 1925 Thermos merged with a small competitor, the Icy-Hot Bottle Company of Cincinnati, Ohio. A new type of vacuum-insulated double-walled Pyrex® glass vessel was engineered in 1928, some as large as 28 gallons. These became extremely popular in 1928 and 1929 for ice cream cabinets and frozen fish cabinets, just prior to the advent of commercial refrigeration. Thermos Limited in England had nearly shut down because of the war. After the war the company continued to struggle for some years, operating not as a manufacturer, but as an assembler of imported components. By 1931 the production of glass fillers restarted and the company began its economic recovery. Also, a metal canister factory was opened at Leyton in 1932 and glass filler production was moved to that location in 1938. When World War II broke out in Europe in 1939, virtually all of the capacity of Thermos Limited in England was changed over to wartime requirements of the British military forces. Every time a thousand bombers went out on a raid, 10,000 to 12,000 Thermos vacuum flasks went with them. Meanwhile in the U.S., The American Thermos Bottle Company played an important role in the war. More than 98% of its output was for military usage and atomic energy laboratories. When the war ended in 1945, Thermos plants were reconverted to civilian and peacetime uses. Demand was so great that the Norwich factory, operating at full capacity, could produce only the standard items. Pre-war specialty products did not reappear until later with the purchase in 1947 of a plant in nearby Taftville for metal manufacturing. About Specimens Specimen Certificates are actual certificates that have never been issued. They were usually kept by the printers in their permanent archives as their only example of a particular certificate. Sometimes you will see a hand stamp on the certificate that says "Do not remove from file". Specimens were also used to show prospective clients different types of certificate designs that were available. Specimen certificates are usually much scarcer than issued certificates. In fact, many times they are the only way to get a certificate for a particular company because the issued certificates were redeemed and destroyed. In a few instances, Specimen certificates we made for a company but were never used because a different design was chosen by the company. These certificates are normally stamped "Specimen" or they have small holes spelling the word specimen. Most of the time they don't have a serial number, or they have a serial number of 00000. This is an exciting sector of the hobby that grown in popularity and realized nice appreciation in value over the past several years.
Fairfax, Virginia
Seller Since 1995

---
Payments Accepted:
Item Details:
Category
Coins & Currency
Dimensions
Width: 0 inch
Height: 0 inch
Depth: 0 inch
Weight: 0 pound
Condition
See Description
Items Similar To "American Thermos Bottle Company 1907"