25 Old Iraqi Dinars Saddams White Arabian Horses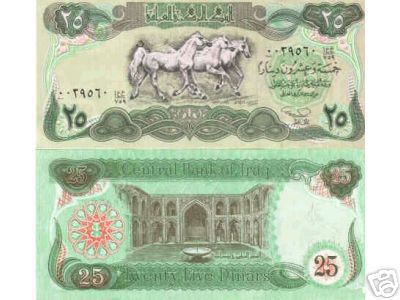 Real Iraq Saddam Insane Uncirculated 25 Dinars Arabian HorsesCRISP UNCIRCULATED IRAQ 25 DINAR NOTES WITH WHITE ARABIAN HORSES PICTURED ON THE FRONT. Issued in 1981 by the CENTRAL BANK OF IRAQ AS EMERGENCY WAR NOTES AFTER WORLDWIDE SANCTIONS WERE IMPOSED.
These notes will never be produced again, and this is your opportunity to grab a PIECE OF HISTORY!
ISLAMIC PEOPLE BELEIVE THE ARABIAN HORSES ARE A GIFT FROM ALLAH, TO BE REVERED, CHERISHED AND WORSHIPPED AS PART OF THEIR FAITH. THE MYTHOLOGY AND ROMANCE OF THE BREED GREW WITH EASH PASSING CENTURY WITH STORIES OF COURAGE, ENDURANCE AND WEALTH. THE ARABIAN HORSE WAS PRIMARILY AN INSTRUMENT OF WAR, AS WERE HORSES IN GENEREAL IN MOST SOCIETIES OF THE TIME. A WELL-MOUNTED BEDOUIN COULD ATTACK AN ENEMY TRIBE AND CAPTURE THEIR HERDS OF SHEEP, CAMELS, AND GOATS, ADDING TO THE WEALTH OF THEIR OWN TRIBE. SUCH A RAID WAS ONLY SUCCESSFUL IF THE AGGRESSORS COULD ATTACK WITH EXPEDIANTE SURPRISE AND MAKE GOOD THEIR ESCAPE.
These will make a GREAT ADDITION to any collection, and be GREAT CONVERSATION PIECES for many years to come.
West Hollywood, California
Dealer accepts: PayPal
Shipping: $2.25