2007 US Mint Uncirculated Set NIB with Cert of Auth 28 coins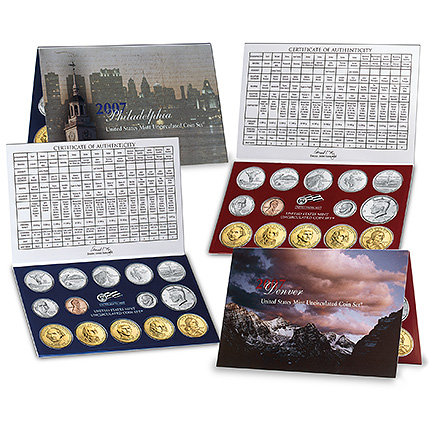 The 2007 United States Mint Uncirculated Coin Set® With Certificate of Insurance This set contains two folders of 14 coins each, one from the United States Mint at Denver and the other from the United States Mint at Philadelphia, for a total of 28 coins. Each folder includes uncirculated versions of the following 2007-dated coins: the four Presidential $1 Coins, the five quarters issued in the United States Mint's 50 State Quarters® Program, the Golden Dollar featuring Sacagawea, the Kennedy half-dollar, the Roosevelt dime, the Jefferson nickel and the Lincoln cent.
Uncirculated coins are struck on special presses using greater force than circulating coins, producing a sharp, intricately detailed image, and feature the satin finish introduced in 2005. New packaging is introduced for the 2007 United States Mint Uncirculated Coin Set. The coins are sealed in a blister and displayed in a folder. One folder contains coins bearing the "P" mint mark and the other contains coins bearing the "D" mint mark. The coin folders are enhanced with newly designed scenic views of the Philadelphia and Denver areas.
Please add $3.00 insurance the shipping charges. Thank you!
West Hollywood, California
Dealer accepts: PayPal
Shipping: $6.00