2007 United States Mint Silver Proof Set 14 Coins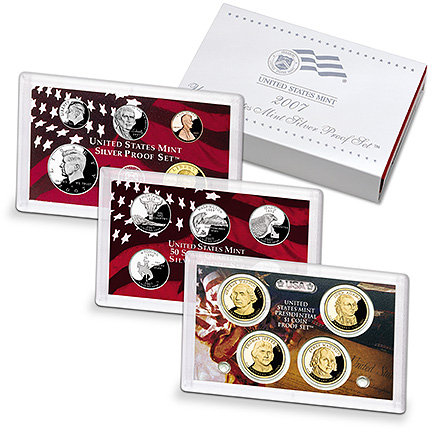 2007 United States Mint Silver Proof Set with Certificate of Authenticity The 2007 United States Mint Silver Proof Set™ includes 14 coins, each bearing the "S" mint mark of the United States Mint at San Francisco. In addition to the four new Presidential $1 Coins honoring the past Presidents of the United States: Washington, Adams, Jefferson and Madison, it also contains all five quarters from the 50 State Quarters® Program for the year – Montana, Washington, Idaho, Wyoming and Utah – as well as the Lincoln cent, the Jefferson nickel, the Roosevelt dime, the Kennedy half-dollar, and the Golden Dollar featuring Sacagawea. Distinguishing this collection are the dime, half-dollar and five commemorative state quarters, all of which are produced in lustrous 90% silver.
United States proof coins are extraordinarily brilliant, with sharp relief and a mirror-like background. Their frosted, sculpted foregrounds give them a special cameo effect. Proof blanks are specially treated, polished and cleaned to ensure high quality strikes. The blanks are then fed into presses fitted with hand-polished dies and struck at least twice to ensure sharp relief. The coins are then packaged in presentation cases to showcase and maintain their exceptional finish.
Please add $4.00 to the shipping cost for insurance. Thank you!

West Hollywood, California
Dealer accepts: PayPal
Shipping: $7.00