2007 $50 American Buffalo Gold Replica Coin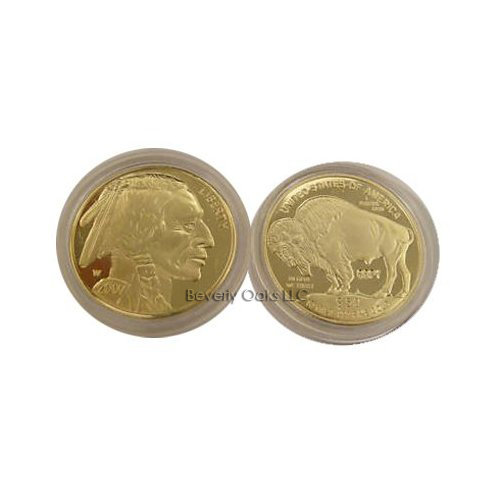 2007 $50 Gold Buffalo Commemorative layered in pure 24K gold. Exact size just like original. Comes in an airtight plastic holders. "The Gold Buffalo" - Its designs feature images originally prepared by James Earle Fraser for the now-famous "Buffalo Nickel". The Buffalo Nickel remains today one of the most popular American coins ever struck. Featuring a profile of a Native American on the obverse and an American Bison on the reverse. Fraser once said that the Indian profile was a composite of three Lakota and Cheyenne chiefs: John Big Tree, Iron Tail and Two Moons. The model for the buffalo was that of "Black Diamond," then on display at New York City's Central Park Zoo. Fraser's design is generally considered to be among the best designs of any U.S. coin - and now it graces America's grandest gold coin. Layered in pure 24K gold using the utmost in precision embossing technology to show every last detail of the Indian chief on the obverse and all the prowess and grandeur of the American bison on the reverse. A great addition to your collection or as gifts.
Items Similar To "2007 $50 American Buffalo Gold Replica Coin"
Beverly Hills, California
Dealer accepts: Money Order, PayPal
Shipping: $2.95