2006 50 STATE PROOF Set Certificate of Authenticity 5 Coins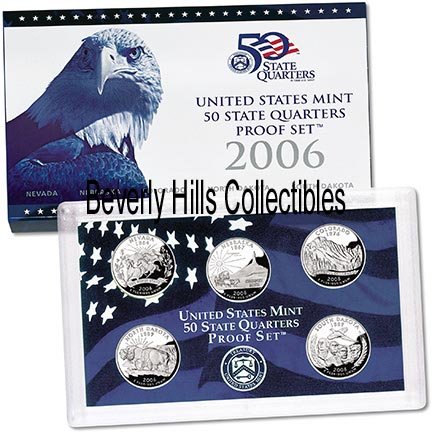 2006 United States Mint 50 State Quarters Proof Set The official 5-coin United States Mint 50 State Quarters Proof Set for 2006, - the eighth annual set in the ten-year series celebrating each of the 50 states in the order in which they were admitted into the union. Few coins today have the degree of artistry and detail that is so beautifully revealed in a proof coin. The set includes all five proof quarters issued under the 50 State Quarters® Program for 2005 and celebrates the unique heritage of the states -Nevada, Nebraska, Colorado, North Dakota and South Dakota.
United States proof coins are extraordinarily brilliant with sharp relief and a mirror-like surface. Their frosted, sculpted foregrounds give them a special "cameo" effect, created by the proofing process. Proof blanks are specially treated, polished, and cleaned to ensure high-quality strikes. The blanks are then fed into presses fitted with hand-polished dies and struck at least twice to ensure a sharp, high relief. The coins are then packaged in presentation cases to showcase and maintain their exceptional finish.
From the birth of a child, to a graduation, the United States Mint 50 State Quarters Proof Set is a gift of historic beauty and a lasting memento that only gets better with time.
$2.00 Insurance Required. Please add to the shipping and handling total. Thank you!!

West Hollywood, California
Dealer accepts: PayPal
Shipping: $4.00