Bullet Struck Enfield P1853 Musket From Antietam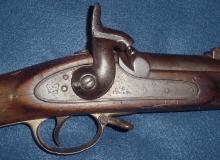 Click thumbnails for expanded view.








Standard lock with "1862" over "TOWER"; crown behind the hammer. 39" barrel in .577 caliber, stamped with Birmingham view and proof marks, separated by two British gauge marks, "25" for .577 cal. Underside of barrel stamped "JF" and "BURR", with number "302" and "W & C SCOTT" in small letters. W & C Scott were a major supplier of Enfield rifles to the Confederacy. Rear sight missing spring and also stamped on the underside with "302". Brass fittings; the trigger guard tang with inscribed initials "TE". Stock with no discernable marks, showing fewer dings and handling marks than normal, except the reverse, which has a large piece of wood chipped out of the butt. This piece is irregular and obviously chipped out a very long time ago. The lower edge of the chip does not follow the wood grain and very closely matches the shape of a .58 cal. minnie ball (see photo). Rifle is missing ramrod and front barrel band. Condition is mixed, with barrel showing excellent bore, sharp markings, and most of its original bluing. Hammer and lockplate with scattered pitting. While most of the stock shows little wear, there is a tight crack behind the lockplate and another forward of the rear lockplate screw, possibly from the trauma of the bullet strike, since it clearly wasn't fired much. Quite a bit of wear and some chipping along the ramrod channel. Seller says this gun was picked up by her great grandfather, T. L. Harris, on the Thorne Family Farm after the Battle of Antietam. The Thorne name is very common around Sharpsburg, MD and the family is recorded as having owned land which was part of the battlefield. The fact that the barrel and bore is excellent and the gun shows little normal handling, yet there is some minor corrosion to other exposed metal parts would be consistent with a gun which had not been fired much when it was lost in the battle, but laid around for awhile afterwards exposed to the elements. The absence of a ramrod and location of the bullet strike would be consistent with a gun struck while being loaded, then discarded, with its owner either not surviving or picking up another musket on the field. The missing parts could have been a result of being scavenged either during or after the battle, its damage likely accounting for its not having been picked up by the Union Army after the battle. Great piece of American History- if only it could talk!
Tuckasegee, North Carolina

---
Payments Accepted:
Item Details:
Category
Militaria & Weapons
Dimensions
Width: 0 inch
Height: 0 inch
Depth: 0 inch
Weight: 0 pound